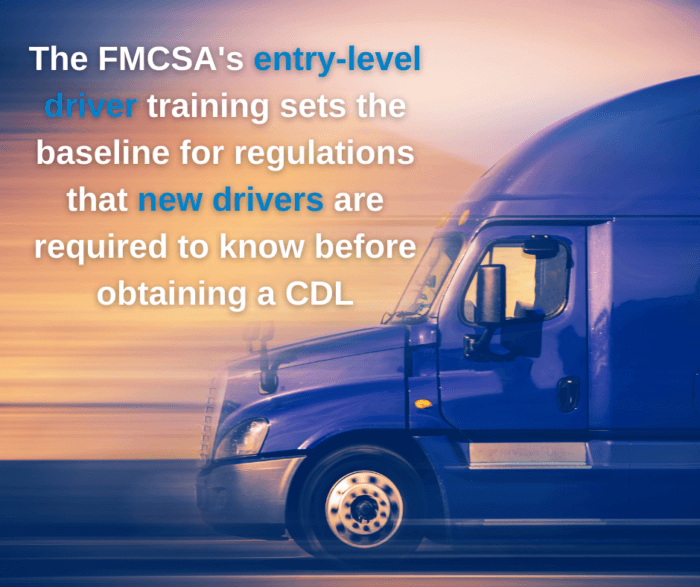 August 2, 2022
A Guide to the FMCSA's New Entry-Level Driver Training (ELDT)
Starting in February 2022, obtaining a commercial driver's license (CDL) will no longer be as simple as just acquiring a learner's permit, getting some behind-the-wheel experience, and taking the skills test. Prospective drivers will now have to take the FMCSA's new entry-level driver training before they can get their CDL. So what exactly do you need to know about the new EDLT rule?
FMCSA's new entry-level driver training requires that new commercial drivers pass an approved curriculum before obtaining a CDL. This curriculum covers five areas of instruction related to driving a commercial motor vehicle. The ELDT is intended to improve highway safety and ensure proper training for all CDL holders.
Our guide below details everything you need to know about FMCSA's new entry-level driver training, including who's required to take it, when the new rule goes into effect, and more.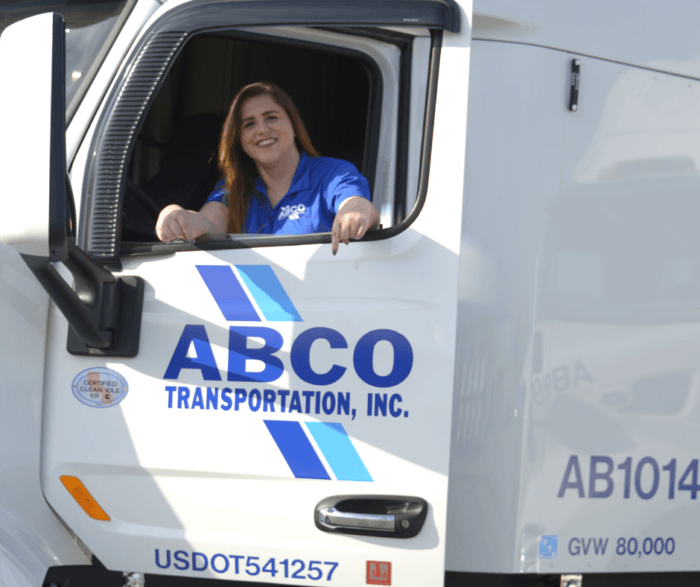 What is Entry-Level Driver Training (ELDT)?
The Federal Motor Carrier Safety Administration's (FMCSA) entry-level driver training sets the baseline for regulations that new drivers are required to know before obtaining a CDL. The curriculum covers 30 theory topics designed to improve highway safety for both commercial drivers and other motorists.
Who is Required to Take ELDT?
The new ELDT rule is required for any applicant interested in obtaining any one of the following:
A Class A or Class B CDL for the first time

An upgrade from a Class B CDL to a Class A CDL

A school bus (S), passenger (P), or hazardous materials (H) endorsement for the first time
The curriculum must be completed before taking either the CDL skills test or the endorsement knowledge test. A driver must prove that they have obtained training from an instructional program that meets FMCSA standards.
What Theory Topics Does ELDT Cover?
The ELDT curriculum covers five areas of instruction: Basic Operation, Safe Operating Procedures, Advanced Operating Practices, Vehicle Systems, Reporting Malfunctions, and Non-Driving Activities. Each area of instruction is broken down into several smaller sections totaling 30 different theory topics.
There is no minimum amount of time that a driver trainee must spend on the curriculum and applicants must achieve an overall minimum score of 80% to pass the assessment.
Basic Operation
As the name implies, this section trains applicants on the basics of operating a commercial motor vehicle (CMV) — such as the instruments involved, how to control the vehicle, how to perform inspections on a vehicle, and how to perform simple maneuvers. The topics covered include:
Orientation

Control Systems/Dashboard

Pre- and Post-Trip Inspections

Basic Control

Shifting/Operating Transmissions

Backing and Docking

Coupling and Uncoupling (Class A CDL only)
Safe Operating Procedures
This area of instruction details what drivers need to know to safely operate their vehicles. That includes how to communicate while they're on the road, how to manage both the speed and the space associated with CMVs, and how to safely drive under certain conditions, like nighttime and extreme weather. Those topics include:
Visual Search

Communication

Distracted Driving

Speed Management

Space Management

Night Operation

Extreme Driving Conditions
Advanced Operating Practices
The next area details what drivers need to know about some of the more advanced operations, like how to recognize and respond to hazardous situations. As well as actions they should perform in emergencies, and how to safely navigate railroad crossings.
Hazard Perception

Skid Control/Recovery, Jackknifing, and Other Emergencies

Railroad-Highway Grade Crossings
Vehicle Systems and Reporting Malfunctions
This section provides drivers with detailed information about their commercial motor vehicles. That includes recognizing and responding to potential malfunctions, how properly inspecting their vehicle and how to perform basic maintenance, and keeping their vehicle running properly. Those three topics are as follows:
Identification and Diagnosis of Malfunctions

Roadside Inspections

Maintenance
Non-Driving Activities
The final section includes information that drivers need to know about off-the-road operations. That includes medical and safety tips, cargo handling procedures, and other general information related to being a CMV driver. The full list of topics includes:
Handling and Documenting Cargo

Environmental Compliance Issues

Hours of Service Requirements

Fatigue and Wellness Awareness

Post-Crash Procedures

External Communications

Whistleblower/Coercion

Trip Planning

Drugs/Alcohol

Medical Requirements
Behind the Wheel
While not part of the theory curriculum, there is still a behind-the-wheel aspect of ELDT. A driver will train on both a range and a public road.
Your evaluation will be performed by a professional instructor using the same class of vehicle that you intend to get your CDL. There is no minimum amount of behind-the-wheel experience required to complete the training.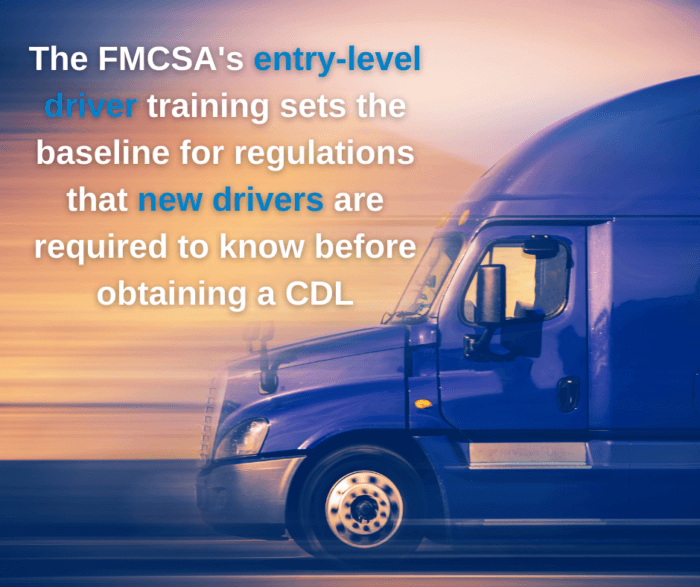 Do I Still Have to Take ELDT If I Alre
ady Have a CDL?
No, the entry-level driver training is not retroactive, meaning that if you already own a CDL or an S, P, or H endorsement, you will not be required to take the new training. The same goes for individuals who obtained a commercial learner's permit (CLP) before the new rule and obtain a CDL before the CLP expires.
You would only have to take the training if you plan to upgrade your CDL from a Class B to a Class A or if you plan to apply for an endorsement for the first time. There is no requirement to take the ELDT if your CDL or endorsement lapses before the rule go into effect.
Others that are exempt from the new regulations include individuals who meet one of the exceptions for taking a skills test in 49 CFR Part 383. Those include:
Certain military drivers, farmers, emergency vehicle drivers, and drivers of "covered farm vehicles"

Certain drivers in Alaska, in farm-related service industries, and the pyrotechnic industry applying for a restricted CDL

Military personnel who meet all substitution requirements for operating a military CMV

Individuals who apply for removal of the restriction and complete modified skills test demonstrating that they can safely and effectively operate the vehicle's full air brakes, air over hydraulic brakes, and/or manual transmission, as well as successfully perform the air brake pre-trip inspection and pass the air brake knowledge test
When Does the New Training Go In
to Effect?
FMCSA's new ELDT regulations go into effect on February 7, 2022. That means that if you are not issued a CDL (or CLP) or an S, P, or H endorsement before that date, you will be required to take the new ELDT before you are legally allowed to obtain one.
How Do I Sign Up for ELDT?
A prospective driver must apply through the FMCSA's Training Provider Registry (TPR). There, you can connect with registered training providers who are certified to offer the training.
When all requirements are complete, the applicant can submit their certification. Records of all drivers who complete the training remain on the TPR.
Drive with ABCO Transportation
At ABCO Transportation, we're always looking for new CDL drivers to help grow our company and provide excellent service to our customers. We offer competitive wages, safety, and referral bonuses, mileage incentives, and fuel network bonus opportunities.
We've become a leader in the transportation industry by offering the latest in transportation technology to stay ahead of the everchanging demands of the marketplace. Contact us today and learn more about how you can join the ABCO team.