August 4, 2022
Local truck driver jobs are simple compared to over-the-road, regional, and team driving positions. Local day cab trucking jobs allow drivers to continue living in their neighborhood. The fixed schedule makes it simple to manage your life around work. It's simple to like your profession and enjoy life when you have a defined routine, come home every night, and be with your family.
Local day cab truck driving positions with ABCO Transportation provide CDL Class A drivers competitive compensation and benefits as well as a healthy work-life balance. Imagine having a simple 5-day workweek, attending family dinners at home, and never missing a child's baseball game or recital.
Peterbilt Day Cab Trucks
Late-model equipment makes driving easy and fun. ABCO Transportation's Peterbilt trucks offer next-generation comfort and top performance. In addition to driver comfort and performance, these day cab tractors promise a smooth ride and peace of mind knowing your truck is reliable and driver safety is a priority.
ABCO Transportation's Peterbilt day cab trucks are top quality, reliable, economical to operate, and safe. Our trucks feature:
Heated and air-conditioned seats to keep drivers comfortable in all types of weather

LED backlit gauges to make getting information easy

Automatic transmission to make driving easy and hassle-free

Easy to read in-dash display
The Peterbilt trucks also offer several aesthetic design features to make driving more pleasant. A special mold process embeds the color directly into the dash, offering a long-lasting finish that won't fade or peel.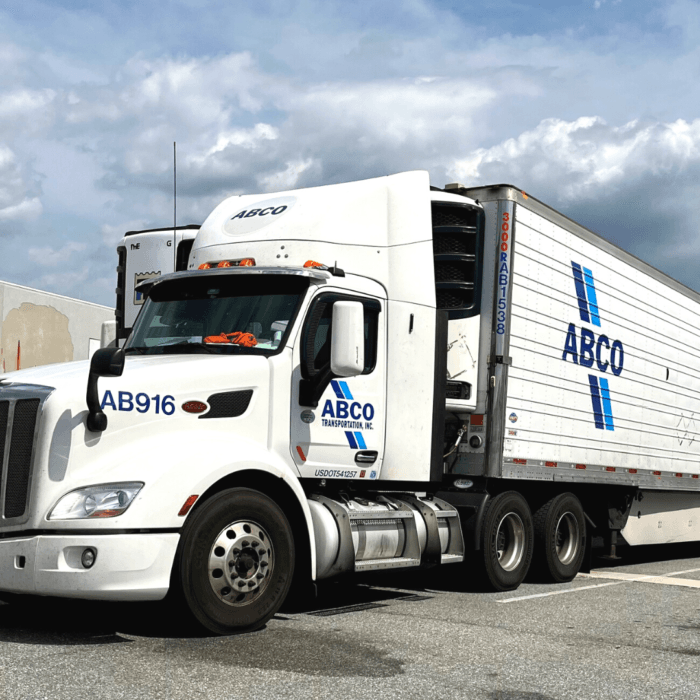 Difference Between Day Cab and Sleeper Cab Driving Jobs
You'll find a few differences between local day cab truck driving jobs and jobs driving sleeper cab trucks. The most important difference is that local drivers use day cab tractors without sleepers. Driving a day cab with ABCO Transportation means you'll be home daily. This helps drivers maintain a work-life balance. Sleeper cab drivers are often on the road for days at a time.
Qualifications for ABCO Transportation Local Day Cab Truck Driving Jobs
Driving on a local fleet exposes drivers to all kinds of roadways and conditions. Highways, city streets, and interstates are all fair game. In many of our locations, changing weather can present a challenge to drivers. Servicing customers requires soft skills, too. That's why ABCO seeks next-level talent for our local day cab trucking jobs.
To meet the minimum qualifications for a local day cab truck driving job with ABCO, you must:
Be able to read, write, and speak English fluently

Must be at least 23 years of age

Must have at least 1-year verifiable experience

Possess a

CDL Class A license

Have a clean motor vehicle record

Have a current valid medical card
The ABCO Difference
Driving is a great career, but not with just any company. Not only do our local day cab trucking jobs offer a great work-life balance and top-quality trucks, but ABCO Transportation also offers its drivers some of the best benefits in the business.
Benefits of a local day cab truck driving job with ABCO include:
Exclusive resorts just for ABCO drivers and their families on the beach, in the mountains, and on the river

Paid vacation time

Local routes promise drivers home each night

Medical, dental, vision, and life insurance

401K options
Many drivers are interested in ABCO's exclusive resorts. Resorts are located in Astor, FL, and Cashiers, NC. ABCO's Astor resort on the St. Johns River offers endless opportunities for outdoor recreation — boating, fishing, springs access, and more. If the mountains are calling you, Misty Mountain Cottages in North Carolina can help you answer.
About ABCO Transportation
ABCO Transportation offers more than just local day cab truck driving jobs. Founded in 1993, ABCO Transportation is a family-owned trucking company that specializes in shipping refrigerated and highly perishable goods, as well as other kinds of cargo. We have terminals located across the country and our network of employees delivers integrity and professionalism. We are dedicated to the communities and customers we serve.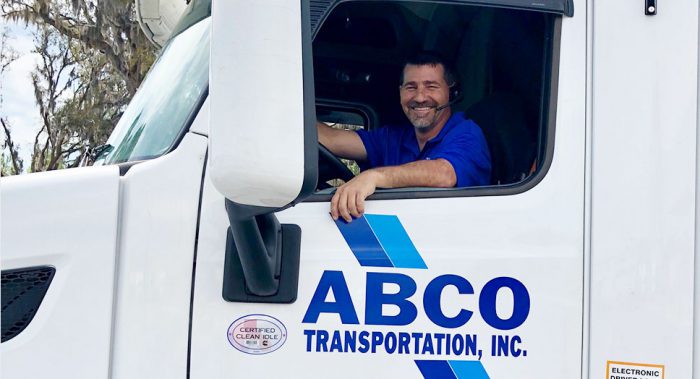 Drive with ABCO Transportation
A local day cab truck driving job gives you the freedom of being on the road, but the flexibility of coming home every night. When you're thinking of reasons to become a truck driver, think of joining a company that cares about your experience! Click here to view our job openings around the country. Applicants can also email recruiting@driveABCO.com or call 800.664.4410 for additional information. Looking for our Facebook page? Comment on a post with your zip code and a recruiter will reach out with dedicated trucking positions near you!