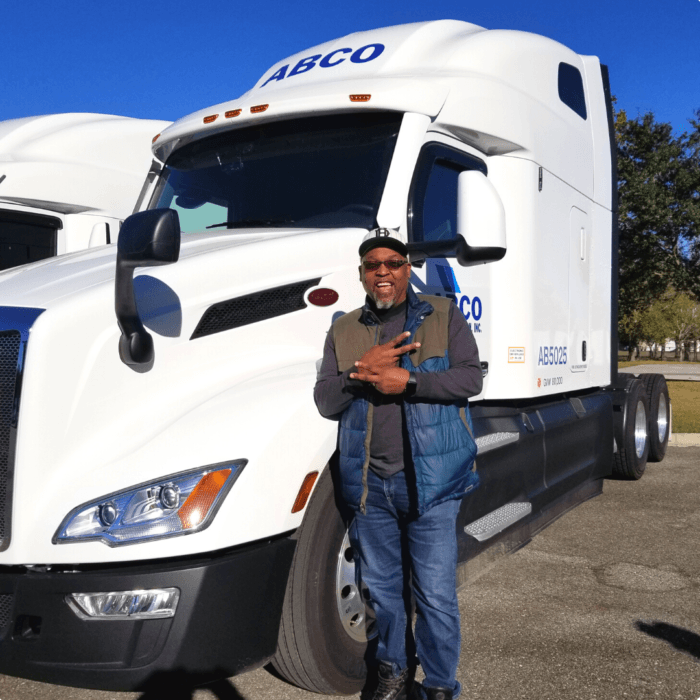 March 3, 2022
Dedicated trucking refers to truck drivers that haul the same freight for one primary customer on the same lanes. By hauling the same consistent truckloads in the same dedicated freight lines, dedicated truck drivers get to know the routes, schedules, and the people at these locations.
Dedicated trucking is unique in that it offers consistency and predictability. Additionally, these truck routes are often for very important customers for the business, so your professional handling of their dedicated freight is of primary concern for the company.
The hallmark of becoming a dedicated truck driver in the trucking industry is building experience as a professional truck driver and trust with a company. ABCO Transportation has high expectations for our dedicated drivers because they comprise our elite dedicated fleet, hence why we pay more for dedicated trucking.
What is Dedicated Trucking?
The type of freight hauled varies from company to company, but a dedicated route means you are hauling the same freight on the same lanes for the same customers every time.
ABCO Transportation is a refrigerated freight company that specializes in the transportation of perishables and products that require temperature-controlled transport, and we have many routes that require dedicated trucking. For more information about our refrigerated freight shipping services, visit shipabco.com.
How Much Home Time Do Dedicated Truck Drivers Get?
There are plenty of factors that go into home time. For dedicated truck routes, drivers might be home daily or away for weeks at a time. It depends on the company and the customer, but once your routes are assigned, your home time should remain consistent and reliable.
How Far Do Dedicated Drivers Travel?
Again, there are plenty of factors that go into distance and mileage, but on average, our dedicated OTR accounts at ABCO Transportation accumulate 2,400-3,000 miles. We heavily concentrate on supporting the supply chain east of I-35. Our grocery dedicated accounts average around 3,000 miles running Florida, Alabama, Georgia, and back to Florida.
ABCO is a Florida-based company that offers several opportunities in the eastern half of the US. We have dedicated lanes like SE Regional, OTR, Regional, Dedicated OTR, and some local routes. Search for jobs here to find one that fits your needs.
What are the Advantages and Disadvantages of a Dedicated Trucking Job?
Dedicated Trucking Advantages
Dedicated trucking routes are consistent. A dedicated route is an assigned route you know ahead in advance that you manage repeatedly. You'll get to know your customers, your route, be able to set a routine that works for you, and stop by any of your favorite stops along the way. Finding parking will be more familiar and you'll know where to get food when desired.
Dedicated freight hauling is structured so that you know the routine ahead of time. As a result, this allows forming a positive relationship with the customer which then causes smooth transactions with the customer. Dedicated trucking routes also have great benefits.
ABCO Advantages
Speaking of benefits, in addition to great pay, you'll have access to benefits such as 401(k), medical, life, vision, and dental insurance. Drivers at ABCO Transportation also have the opportunity to stay at our exclusive resorts – The Castaways on the River in Astor, Florida, and the Misty Mountains Resort in Cashiers, North Carolina.
Castaways on the River offers boat rentals so you'll be able to enjoy the wildlife, freshwater fishing, and crystal springs during your vacation. Access to an exclusive resort is a benefit that few, if any, other companies provide for their employees, and yet, ABCO offers not just one resort, but two.
Misty Mountain Cottages is our newest vacation property located in Sapphire, North Carolina. Just 0.3 miles to Cashiers Valley Resort, Misty Mountain offers access to a community pavilion with an outdoor fireplace, picnic table, and BBQ grills to hang out in the evenings.
Employee resorts are one of the many nontraditional advantages of being an ABCO Transportation driver. Dedicated trucking routes also pay, on average, much more than standard Class A CDL drivers.
Dedicated Trucking Disadvantages
Potential burnout – Many drivers enjoy having different routes and variety in their work. While some drivers love the routine, others find driving the same routine every day leads to burnout. That can impact the quality of service and lead to more turnover for carriers.
Increased responsibility – Dedicated truck drivers handle some of the most important customers and providing a substandard experience can detrimentally impact the company. If dedicated drivers fail to deliver positive customer service, the business contract could be in jeopardy.
Requirements Needed to be a Dedicated Truck Driver
Dedicated trucking is a competitive position usually assigned to those who have had at least one year of experience. To become a dedicated truck driver, you need to first earn your CDL, find a great company that will support you, and with enough experience, be promoted to a dedicated trucking position.
Get a Dedicated Trucking Job with ABCO Today
ABCO is always looking for elite drivers to join the team and fill trucking jobs at our service centers around the country. Here's a bit about what we're looking for from ABCO applicants:
Great attitude and work ethic

Experience and professional skills

Clean MVR

Mutual respect and communication
A Dedicated Fleet to Keep the Supply Chain Moving
At ABCO Transportation, we specialize in providing dedicated and regional freight services. We can meet all your transportation needs from temperature services to dry freight. Our dedicated services are critical to maintaining the supply chain. Our services include …
Dedicated Services
Refrigerated or Dry Truckload

Expedited

Regional

Closed Loop and Revenue Share Solutions

Local/Shuttle

Seasonal pop-up solutions
Our dedicated services offer a variety of solutions that keep the supply chain moving.
When you're thinking of the reasons to become a dedicated truck driver, think of joining a company that cares about making your experience matter! Click here to view our job openings around the country. Applicants can also email recruiting@driveABCO.com or call 800.664.4410 for additional information. Looking for our Facebook page? Comment on a post with your zip code and a recruiter will reach out with dedicated trucking positions near you!