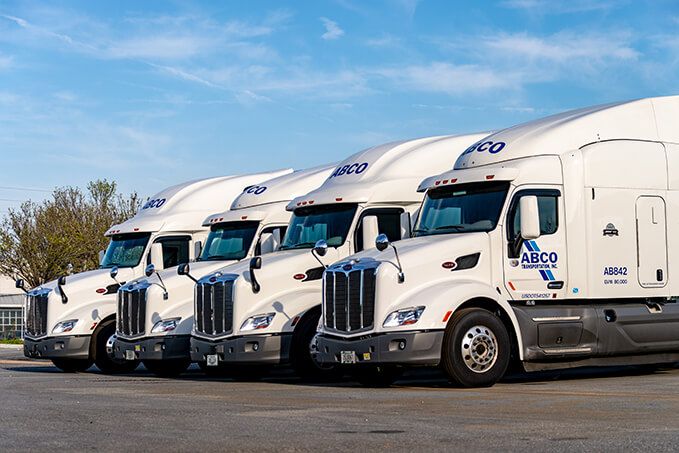 June 14, 2019
The upper Midwest of the United States, known for producing a variety of goods such as pharmaceuticals, agricultural products and other items, drives the demand for refrigerated truck driving jobs. Much of these goods require refrigerated trucking to reach the marketplace. In recent months, refrigerated trucking jobs from Illinois to Ohio have increased with companies like ABCO Transportation, Inc.
Refrigerated truck driving jobs from Ohio to Illinois is a route that will take freight from within a 50-mile radius of northeastern Illinois, near Chicago to the southeast corner of Ohio surrounding Wilmington. The question is how to land the job behind the wheel providing refrigerated transportation.
As the demand for refrigerated transportation increases, the quantity of truck driving jobs also increases as companies seek professional drivers to handle the route from Ohio to Illinois.
Drivers can check out the information for the Ohio jobs with ABCO Transportation or the criteria related to the Illinois driving positions now open.

Regional Truck Driving Jobs from Illinois to Ohio
The route from Illinois to Ohio includes travelling through Indiana to make the 5-hour to 6-hour trip depending on traffic. This regional route could easily be handled by a driver residing in northeastern Illinois or southeast Ohio.
Refrigerated freight leaving a distribution center located in a northern Illinois suburbs headed for retailers in southwest Ohio within easy range of Dayton, Cincinnati and Columbus.
Temperature controlled freight could include:
Meat
Florals
Pharmaceuticals
The route from Illinois to Ohio crosses the state of Indiana. The regional route from Illinois to Ohio travels in close proximity to the major hubs of Indianapolis and Fort Wayne in Indiana. Additionally, both cities are a midway point between northeastern Illinois and Ohio's southeast corner. As the demand for freight services in the upper Midwest increases, the company also needs help handling the load. It's an expanding route that offers consistent mileage and home time.
Regardless of the season, temperature controlled freight must still move. Typically, the freight is shipped expedited because it's considered perishable. An experienced truck driver can easily navigate the road between Illinois and Ohio. The regional route, approximately 350 miles, would be a good fit for a driver likely within a 50-mile radius of a terminal.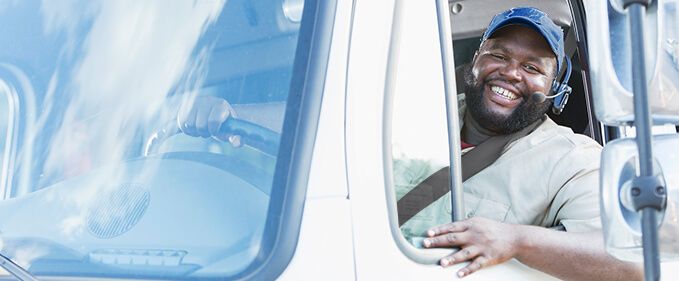 Refrigerated Freight
Now let's talk about refrigerated or temperature-controlled freight. A driver that does not have experience with refrigerated freight will gain the know-how during orientation. The BOL, or bill of lading, will specify the temperature level to set the trailer for the trip.
However, it is important to note that with the 350-mile trip between northeast Illinois and the southwestern section of Ohio, expedited freight can reach a destination point within a few hours. As with refrigerated freight, produce and other items have a short window between harvest and delivery to maximize freshness.
Items requiring refrigeration include:
Produce
Meat
Floral
Pharmaceuticals
These time sensitive items must be shipped safely and promptly once loaded for delivery. The driver must understand that they must keep equipment at the correct temperature stated on the BOL throughout the trip. In addition, the driver must stay focused on the road to avoid accidents and delays that could potentially jeopardize the freight. Overall, the goal is to ensure prompt and safe delivery every time.
ABCO is known in the transportation industry for hauling refrigerated freight. However, the regional route between Illinois and Ohio is where expansion is occurring quickly and our drivers must be up for the challenge. If you have experience behind the wheel, but not necessarily with refrigerated, there still may be a spot for you too. ABCO also provides dry van service to a number of customers along this regional route as well.

Qualify for ABCO Truck Driving Jobs
How does a truck driver land a job with ABCO? There are several things our recruiters look for when it comes to hiring drivers for regional routes. Here at ABCO, your experience matters.
In order to make the cut, ABCO drivers must:
Be at least 23 years of age
Have a CDL Class-A License with 1-year verifiable experience
Possess a clean MVR
Hold a current valid Medical Card
One of the main things recruiters are looking for are safe drivers. Therefore, good candidates for truck driving jobs from Illinois to Ohio are those with one year of experience that can be verified and void of accidents on their record.
The ABCO recruiters are also looking for character, responsibility and reliability in each driver considered for a job. ABCO, a family-owned truck company, prides itself on is that drivers are not micromanaged, but are shown respect by managers.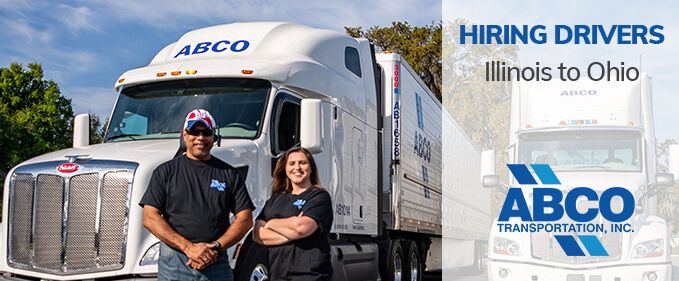 Benefits Working with ABCO
Working with ABCO comes with benefits for drivers. The driver is also guaranteed a competitive weekly paycheck. In addition, a regional route provides consistent miles for the driver along with routine home time each week.
Additional benefits for drivers include:
Vacation time
Medical, dental, vision, and life insurance
401K
Exclusive driver resorts in Cashiers, NC & Astor, FL, Fort Myers, FL
ABCO has partnered with the R+L Family to offer our drivers additional career training opportunities within the logistics and transportation industry. ABCO specializes in transporting refrigerated freight. Interested in joining the ABCO team? Reach out to our recruiting team who is ready to answer driver questions.
Land a Truck Driving Job with ABCO
The route from Illinois to Ohio is constantly expanding as we add more clients. It's the reason our recruiters are searching for expert drivers to fill available spots behind the wheel. Professional drivers in the Ohio to Illinois region, looking for more home time and guaranteed weekly pay should consider applying today.
So what does it take to land a truck driving job with ABCO Transportation? A number of things go into joining our team such as having a good attitude, good work ethic along with bringing experience and professional skill to the table. ABCO drivers are well respected and the lines of communication are always open. If this sounds like a winning combination for you, go ahead and apply to drive for us.