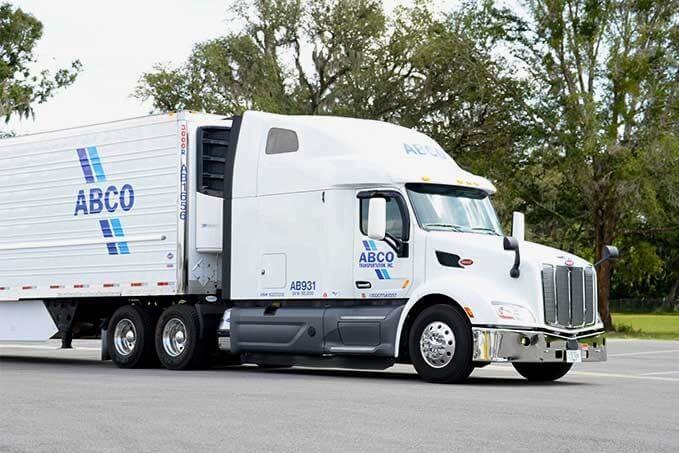 October 2, 2018
Are you looking for a chance to explore the open roads? ABCO has a brand new sleeper cabs and is seeking qualified drivers for several positions. These truck driving jobs offer drivers state-of-the-art equipment, flexible schedules and more.
Sleeper Cab Truck Driving Jobs
Make the most of your driving skills with a new career. ABCO is seeking experienced drivers nationwide for dedicated, team and regional positions. All jobs offer customized home time, giving you flexibility with your schedule.
Dedicated drivers

are assigned to a specific customer. ABCO provides dedicated services to a number of recognizable names in the food, beverage and dry freight industries. You won't have to worry about having enough freight to keep you moving, as there are products and merchandise to deliver all year long. That means consistent, reliable work for high pay.

Team drivers

work with a partner to move freight fast. You and your partner will get to travel the country, getting more miles at a higher pay rate. Our team drivers get more miles and drivers have comfort and security knowing their partner and their company have their back. Team driving can mean traveling coast to coast, logging miles and delivering freight in our brand new Peterbilts with larger sleepers and the most storage space in the industry.

Regional drivers

work in a prescribed geographical area. Stay closer to home. Do you live in the Northeast, Southeast, Midwest, Texas and surrounding states? How about the Western U.S? ABCO has a regional position perfect for you and your family.
Each ABCO truck driving job offers customizable time at home. Competitive pay, state-of-the-art equipment, great benefits and strong work-life balance make ABCO a premier company for our drivers.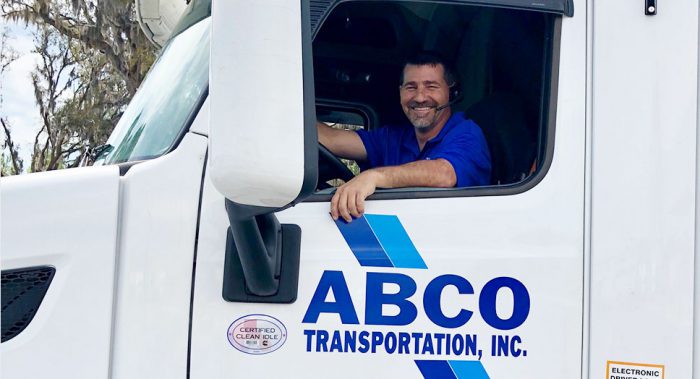 Peterbilt 579 UltraLoft Custom Sleepers
New equipment makes driving comfortable and fun. ABCO has a new fleet of premium sleeper cab semi trucks, making your time on the road an easy ride. These brand new trucks offer top performance and next generation comfort. In addition to performance and comfort, these roomy sleepers promise peace of mind knowing your new truck is safe and reliable.
The Peterbilt 579 UltraLoft cabs let drivers sleep in luxury with premium coil spring upper and lower bunks. Comfort is king and you'll sleep like a baby on these 42" x 85" mattresses.
The UltraLoft semi truck sleeper cabs boast tons of storage space, with the industry's largest storage capacity. You'll find up to 70 cubic feet of storage space, with room for everything you'd need or want while on the road. Enclosed cabinets and an upright wardrobe make it easy to store away your belongings. The sleeper area features an 8-foot ceiling, making the cab feel roomy and giving you the same kind of comfort you experience at home.
ABCO's new Peterbilt trucks are sleek and aerodynamic, with several semi truck sleeper cab design features to make driving happy. The dash offers all the information you'll need to safely operate your truck at a glance. The specially molded interior has a custom finish that won't peel or fade during your time on the road. Carefully thought out design makes the new Peterbilt 579 UltraLoft trucks a pleasure to drive.
You'll find that form and function meet in ABCO's new fleet. Take advantage of our commitment to driver safety and comfort and apply to drive with us today.
Qualifications for ABCO Sleeper Cab Truck Driving Jobs
It takes a skilled and qualified driver to join the ABCO family. Team, Dedicated and Regional truck driving jobs expose drivers to all kinds of road condition. Highways, interstates, city streets and rural roads are all fair game to our drivers. Drivers might traverse mountain ranges, see changing weather and face other challenges on the road, too. Working with ABCO's customers takes skill, too. All of these reasons are why ABCO seeks top-level driving talent for sleeper cab truck driving jobs.
To meet the baseline qualifications for a driving job with ABCO, you should:
Have a CDL Class A drivers license

Have at least 1 year of documented experience

Possess a clean driving motor vehicle record

Have a current medical card

Be at least 23 years old

Be able to write, read and speak English fluently
ABCO drivers are much more than steering wheel holders. Our drivers are responsible, reliable and have strong character. If you have what it takes to be an ABCO driver and are seeking a career, take the next step and apply today.
Why Driving for ABCO is Different
Driving is a great career, but it's even better with ABCO. Not only does ABCO offer drivers state-of-the-art, top quality trucks, but the benefits can't be beat.
You'll find that ABCO's benefits are some of the best in the industry. ABCO offers drivers:
Paid time off

Medical, vision, dental and life insurance

401k options

Exclusive resorts just for ABCO employees and their families
Free use of exclusive resorts draws many drivers to ABCO. Enjoy your downtime on the St. John's River in Astor, FL, or in the mountains in Sapphire, NC. Both offer endless opportunities for recreation, regardless of if you love fishing, hiking, boating, mountain biking and just kicking back and relaxing in a beautiful setting.
Another great benefit of driving for ABCO is that ABCO is a no-touch freight company. This means our drivers aren't typically assigned with loading and unloading their haul. This helps our drivers prevent injury, saves time, and makes the job simpler.
ABCO is a family-owned business. Each of our drivers is welcome as a new member to our growing family. Drivers who have their foot on the accelerator to their career will find that ABCO offers a solid, stable environment and a place to excel.
About ABCO
ABCO Transportation offers drivers more than just great jobs and the best driver benefits in the industry. Since 1993, ABCO has been a family-owned trucking company specializing in transporting highly perishable and refrigerated goods. Our nationwide driving jobs mean with have terminals across the country, which builds a diverse network of professionalism and integrity. ABCO is dedicated to the customers and communities we serve.
ABCO drivers enjoy the best in comfort and the latest technology with state-of-the-art equipment. All of the trucks in our fleets are equipped with cutting edge ELD and GPS technology. ABCO's dedication to technology and service keeps drivers ahead of the curve.
ABCO Transportation is growing. New positions as dedicated drivers, team drivers and regional drivers add many nationwide opportunities to join the ABCO family. If you're interested in working for ABCO, apply today.