June 25, 2018
Are you looking for a truck driving job but want to be home every night? ABCO Transportation has a solution for you. Local day cab truck driving jobs are available — with state of the art equipment, family-friendly schedules and more.
Local Day Cab Truck Driving Jobs
Put your driving skills to use with a job that allows you to come home each night. ABCO has a brand new fleet of 2019 Peterbilt day cab trucks and is currently seeking local day cab drivers. These state-of-the-art trucks are designed with driver comfort in mind. You'll find features like heated and air conditioned seats to keep drivers comfortable year round, automatic transmissions for easy driving and more. Best of all, with an ABCO Transportation local day cab truck driving job, you'll be at home daily.
ABCO is currently seeking local day cab truck drivers in cities including:
Atlanta, GA

Chicago, IL

Orlando, FL

Jacksonville, FL

Miami, FL

Memphis, TN

Kansas City, MO

Harrisburg, PA

Bethlehem, PA

Hartford, CT

Philadelphia, PA

Newark, NJ

Salt Lake City, UT

Portland, OR

Dallas, TX



When compared to over-the-road, regional driving routes and team driving jobs, local truck driver jobs are a cinch. Coming home to your family every night and working a set schedule make it easy to enjoy your work and enjoy life.
Competitive pay and benefits and a solid work-life balance make ABCO local day cab truck driving jobs a great option for CDL Class A drivers. Imagine being home for family dinners, never missing a child's baseball game or recital and enjoying an easy 5-day a week work schedule.
Class A truck drivers have a unique skill set. It takes a lot of knowledge and the right experience to operate a piece of machinery like a day cab truck. A valid Class A CDL truck driver license is required to drive a day cab truck. If you have a Class A CDL license and a year of experience, it is time to apply with ABCO and take advantage of all the great benefits of a local day cab truck driving job.
There are many benefits to taking a local day cab trucking job with ABCO. Local day cab trucking jobs allow drivers to stay in the community where they live. The set schedule makes planning life around work easy.
2019 Peterbilt Day Cab Trucks
Brand new equipment makes driving easy and fun. ABCO's new fleet of 2019 Peterbilt trucks offer next generation comfort and top performance. In addition to driver comfort and performance, these brand new day cab tractors promise a smooth ride and peace of mind knowing your new truck is reliable and driver safety is a priority.
ABCO's new 2019 Peterbilt day cab trucks are top quality, reliable, economical to operate and safe. These trucks also offer the leading edge in driver comfort. Our new trucks feature:
Heated and air conditioned seats to keep drivers comfortable in all types of weather

LED backlit gauges to make getting information easy

Automatic transmission to make driving easy and hassle free

Easy to read in-dash display
The new Peterbilt trucks also feature several aesthetic design features to make driving more pleasant. A special mold process imbeds the color directly into the dash, offering long lasting finish that won't fade or peel.
Form and function meet in ABCO's new fleet. Take advantage of our commitment to driver safety and comfort and apply to drive with us today.
Difference Between Day Cab and Sleeper Cab Driving Jobs
You'll find a few differences between local day cab truck driving jobs and jobs driving sleeper cab trucks.The most important difference is that local drivers use day cab tractors without sleepers. Driving a day cab with ABCO Transportation means you'll be home daily. This helps drivers maintain a work-life balance. Sleeper cab drivers are often on the road for days at a time.
Many drivers prefer local day cab truck driving jobs. Not only do local jobs get drivers home each night, but it keeps drivers working in familiar territory. Drivers can be more invested community members because they stay local.
Qualifications for ABCO Local Day Cab Truck Driving Jobs
Driving on a local fleet exposes drivers to all kinds of roadways and conditions. Highways, city streets and interstates are all fair game. In many of our locations, changing weather can present a challenge to drivers. Servicing customers requires soft skills, too. That's why ABCO seeks next-level talent for our local day cab trucking jobs.
To meet the minimum qualifications for a local day cab truck driving job with ABCO, you must:
Be able to read, write, and speak English fluently

Must be at least 23 years of age

Must have at least 1 year verifiable experience

Possess a

CDL Class A license

Have a clean motor vehicle record

Have a current valid medical card
ABCO Transportation is looking for more than steering wheel holders. Our driving jobs take responsibility, reliability and character. If you have what it takes to be an ABCO driver and are looking for a career not just a job, apply today.
The ABCO Difference
Driving is a great career, but not with just any company. Not only do our local day cab trucking jobs offer a great work-life balance and top quality trucks, ABCO offers its drivers some of the best benefits in the business.
Benefits of a local day cab truck driving job with ABCO include:
Exclusive resorts just for ABCO drivers and their families on the beach, in the mountains and on the river

Paid vacation time

Local routes promise drivers home each night

Medical, dental, vision and life insurance

401K options
Many drivers are interested in ABCO's exclusive resorts. Resorts are located in Astor, FL, and Sapphire, NC. ABCO's Astor resort on the St. Johns River offers endless opportunities for outdoor recreation — boating, fishing, springs access and more. If the mountains are calling you, Misty Mountain Cottages in North Carolina can help you answer.
Additionally, ABCO is a no-touch freight company. This means that our drivers typically aren't tasked with loading and unloading their cargo. This saves our drivers time, prevents injury and makes our drivers' jobs easier.
ABCO is a family-owned business and welcomes each driver as a member to the family. ABCO's family is growing. Drivers who want to push the accelerator on their career with ABCO will find a stable, solid environment to excel.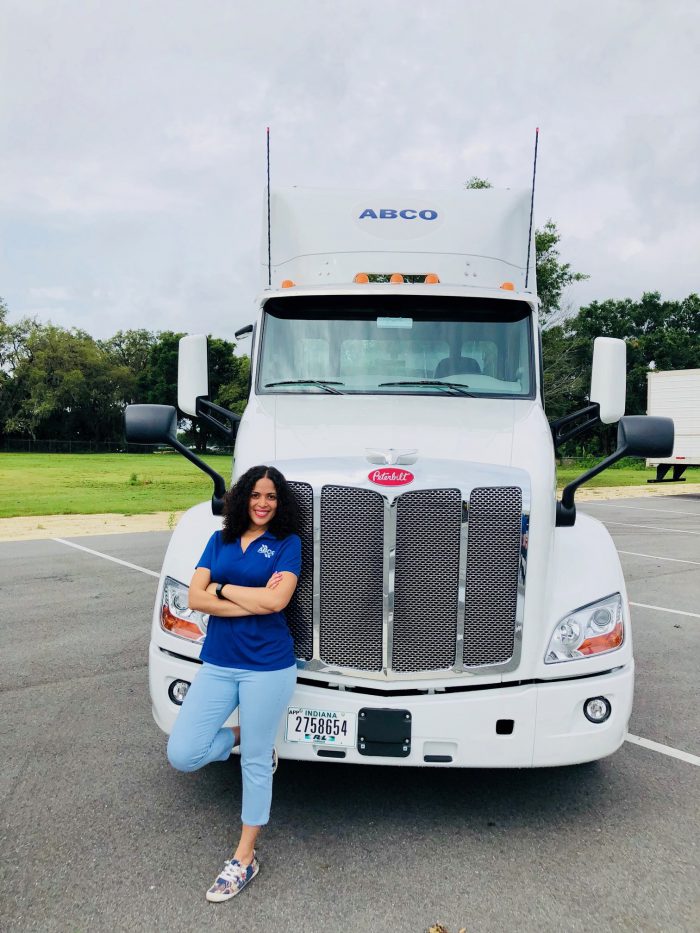 About ABCO
ABCO Transportation offers more than just local day cab truck driving jobs. Founded in 1993, ABCO is a family owned trucking company that specializes in shipping refrigerated and highly perishable goods, as well as other kinds of cargo. We have terminals located across the country and our network of employees deliver integrity and professionalism. We are dedicated to the communities and customers we serve.
ABCO also offers the latest in technology to our drivers and customers. All of the trucks in our fleet are equipped with cutting edge GPS mobile communication. Our dedication to service and technology allows us to meet customer and driver needs quickly and efficiently.
ABCO Transportation is growing and is seeking to add local day cab truck drivers to our team. You'll find other opportunities with ABCO. We offer regional and OTR routes, too. Interested in working for ABCO? Apply today and join our expanding family.
Drive with ABCO
A local day cab truck driving job gives you the freedom of being on the road, but the flexibility of coming home every night. ABCO Transportation is now hiring local day cab truck drivers. Here at ABCO, we celebrate diversity, offer competitive wages and give generous driver benefits to all of our employees. Taking the driver's seat of an ABCO truck puts you at the helm of your career. Work for a company that genuinely cares about its employees. Apply online today or contact us to learn more about our local day cab trucking jobs and other opportunities.