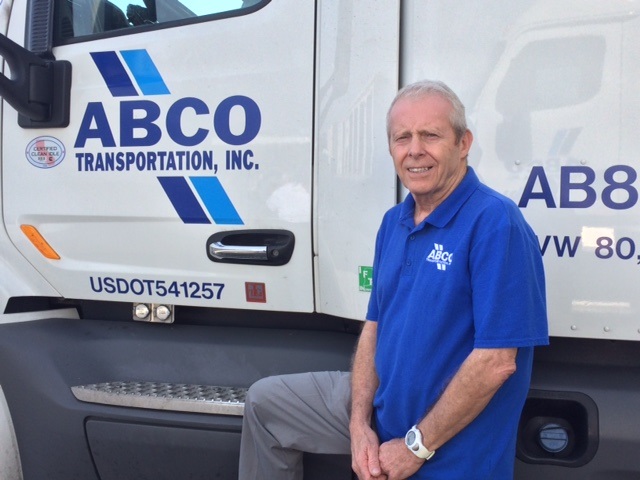 June 2, 2017
The recruiter for ABCO knows just what many of the CDL drivers want to know when they start with the company. Art Gahagan is the ABCO Transportation recruiter hiring CDL drivers for dedicated routes. He has walked in their shoes as a driver.
Gahagan began driving a truck more than two decades ago. He joined the ABCO team in 2011 and drove mostly East Coast routes, which gave him an opportunity to visit family when he wasn't behind the wheel.
Then in October 2015, he came off the road and became the Safety Coordinator for ABCO. Gahagan said the move was a good opportunity because he was able to help drivers improve their skills and share tips that worked for him.
"As Safety Coordinator, you can help drivers and they come to know you have their back," Gahagan said.
While in his role as Safety Coordinator, Gahagan also facilitated the driver orientation classes and was the first person drivers grew to trust. It is that experience that now serves him well as the new Driver Recruiter.
"He has the insight from being a driver to relate to our new drivers," said Shannon B., ABCO Fleet Operations Manager.
As for recruiting, while over-the-road or OTR drivers are a mainstay, ABCO is attempting to appeal to a greater audience who are interested in "Meet & Turn" or "Dedicated" routes.
Shannon said ABCO's business plan provides more opportunities for employees and appeals to a new generation of drivers.
"This also gives them a chance to plan their lives around work and have a set schedule," Gahagan said. "It's exciting for some drivers to travel a 250 mile radius of where they live. They can do a relay, but it's a different thing every day and it keeps the driver alert."
The route is a big question Gahagan said new drivers inquire about most often. He said most are not interested in driving into New York City and most like less exposure to the Northeast region. ABCO is not targeting drivers in those regions right now.
Currently ABCO is recruiting CDL drivers in Kentucky, Illinois, Indiana, Missouri, Kansas, Georgia, Ohio and Tennessee. Gahagan stresses to drivers that they have the biggest impact on their own paycheck by the route they select and time on the road.
Gahagan highlights a few perks that come with driving for ABCO. Those perks include the use of three company resorts in Fort Myers, FL, Astor, FL, and Cashiers, N.C. that are available to drivers after six months of service. Drivers are also able to participate in the company's 401K plan after being employed for one year.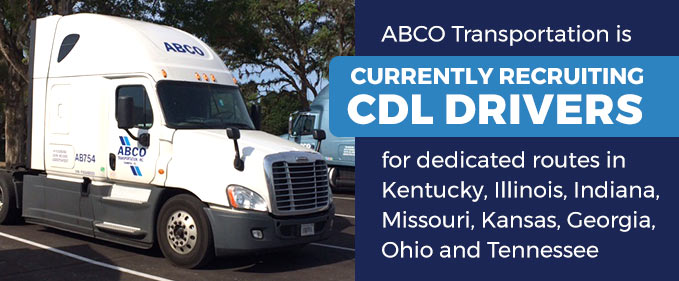 ABCO Recruiter Hiring CDL Drivers
So what is Gahagan looking for in a CDL truck driver he hires for ABCO? He said it comes down to character, responsibility and reliability.
"We are not looking for steering wheel holders," Gahagan said. "It takes a special kind of person to drive a truck. Driving is a lot of responsibility and we want safe drivers."
He shares with new drivers that he appreciates that ABCO does not micromanage drivers that do their jobs.
"No one is calling drivers every 10 minutes because the technology we have is monitoring our trucks," Gahagan said. "Drivers establish their own track record."
Shannon agrees that as long as a driver is doing a good job, the sky is the limit with ABCO.
"Drivers have the biggest impact on their own paychecks," Bissell said.
Drive With ABCO
ABCO Transportation is seeking new CDL truck drivers. We celebrate diversity and offer competitive wages and generous driver benefits to all employees. If you're ready to get in the driver's seat of an ABCO truck today and work for a company that genuinely cares for its drivers, contact us today. We look forward to speaking with you about our truck driving opportunities.