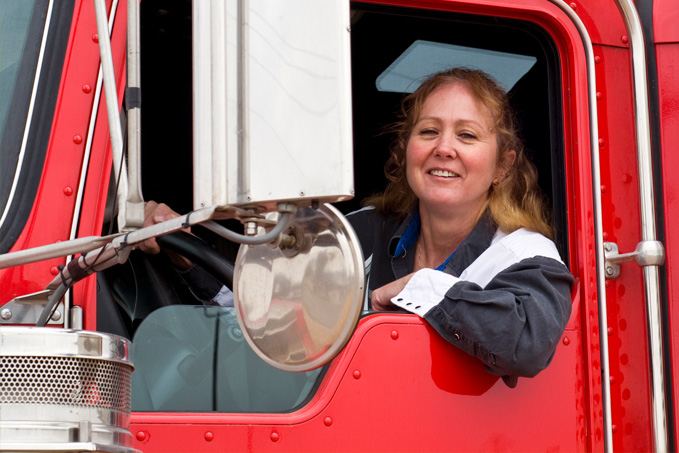 January 27, 2017
For men and women, getting a Class A CDL and going on the road can be both an adventure and a great means to provide for their families. Historically, women truck drivers have played a smaller role in this male-dominated industry but that is continuing to change.
Ready For Female Drivers
For the longest time, most female drivers were partners with their husbands and together they drove as a team. But now women are making an even greater impact. The number of female drivers has grown from 166,000 just a few years ago to nearly 200,000 today, or 5.8 percent of all truck drivers. While an over-average proportion of women truck drivers can be found in states like Delaware or Tennessee, there's also a significant ratio of women driving the tough, icy roads of Alaska. Studies have also shown that women truck drivers are 25 times less likely to have an accident.
Challenges
Some women may encounter discrimination or harassment as truck drivers, but that can be true of industries across the board. Trucking, however, provides a more level playing field than traditional careers. Most trucking companies are on board with the idea that drivers are hired based on character, dedication and work ethic.
Tips To Success
A Training School That Respects Women
Women can give their careers a jumpstart by getting the best possible training. While there are a number of great male instructors, it may be beneficial to seek a CDL training program that includes female instructors as well. This can provide you with insight as to how the company views its female drivers. They can also provide some good tips on what it's like to be a female driver, and what to watch for.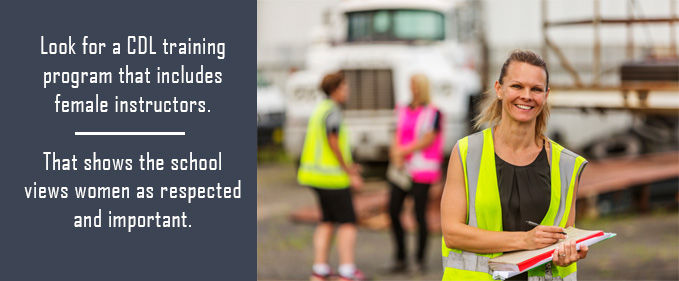 Show Confidence
When a woman becomes a qualified driver, she deserves respect. Women drivers especially need to believe in themselves. There's always been the concept of a "confidence gap" between men and women in the workplace. Studies show that men are more likely to ask for raises and promotions or take risks. As a woman competing in what is still essentially a male-dominated industry, females are just as capable. Women drivers should develop and display the confidence to pursue every opportunity that comes along.
Know Your Resources
A woman driver should never regard herself as an outsider. Women should be familiar with and take advantage of any employee resources their company offers. In addition to consulting more experienced female peers, women can find great career advice from groups like Women in Trucking. They should also make the effort to stay on top of industry topics, trends and influencers. As women drivers gain more experience, having superior knowledge, as well as skills, will help them grow in their careers.
ABCO Transportation is a refrigerated trucking company that celebrates diversity and offers great employee benefits. If you're ready to get started with a successful company, visit our website and discover all that ABCO has to offer new drivers.