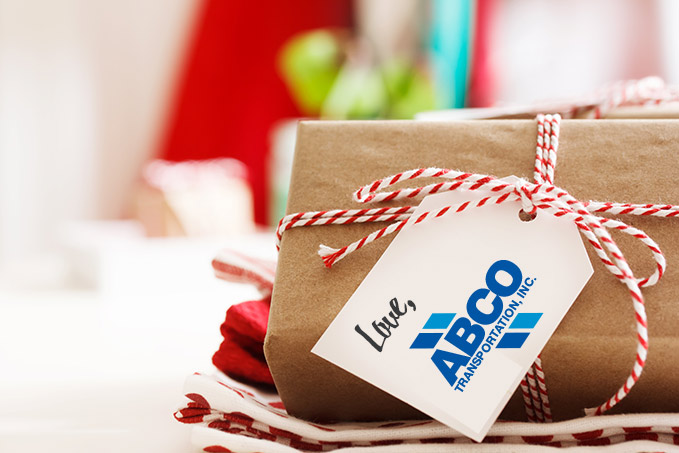 December 23, 2016
One of the ways we show gratitude to our truck drivers and employees at ABCO Transportation is through our annual 12 Days of Christmas celebration. You'll be happy to know that no partridges in pear trees, French hens or calling birds were injured during this truck driver appreciation promotion.
ABCO partnered with R+L Global Logistics and Paramount Freight Systems in 2016 to offer a holiday promotion to its employees in keeping with the gift-giving theme of the season. All employees were entered into a drawing for daily prizes that began December 6 and ended December 21. To mark the ending of the 12 days of exciting giveaways, ABCO office employees celebrated Ugly Christmas Sweater Day on Dec. 21.
Throughout the 12 days, six ABCO drivers and one ABCO office employee won prizes including the grand prize on the final day. ABCO recognized all of these winning employees on its social media channels.
12 Days of Giveaways
Previous 12 Days of Christmas prizes won by ABCO employees included the following:
Keurig Coffee Maker and 30-count coffee pack, perfect for use in a truck: won by driver Matthew A.
Amazon firestick: won by driver Terry S.
Holiday gift basket: won by driver Dennis S.
Teavana Gift Set: won by driver Leonard T.
Game Night gift set featuring Cards Against Humanity and Settlers of Catan: won by office employee Angel.
Amazon Echo: won by driver Shane W.
Grand prize of a $250 Visa gift card: won by driver Jean P.
"We appreciate our drivers and try to do fun things when we can," said Roetta Coller, Human Resources Manager at ABCO Transportation. "They work very hard and are a vital part of our organization. The 12 Days of Christmas is just one of the ways we like to show our gratitude."
The Christmas holiday is upon us and the year is winding to a close. ABCO is already looking ahead to the new year and opportunities to do more for truck driver appreciation.
"We look forward to 2017 as we find more exciting ways to say thank you," Coller said.
ABCO Transportation, a refrigerated trucking company, is always looking for ways to help celebrate and encourage its truck drivers. If you're looking to drive for a company who appreciates its drivers, contact us today. We'd love to speak with you.