August 1, 2016
Pop music rings with melodies rejoicing and lamenting the long road; and the songs echo most closely to the heart of the truck driver, endlessly steering massive machines across distant miles to get to another far-off destination.
Brooks & Dunn's "Red Dirt Road." Willie Nelson's "On The Road Again." Roger Miller's "King of the Road." Johnny Cash's "I've Been Everywhere." George Strait's "Amarillo By Morning." John Denver's "Country Road." The Beatle's "The Long And Winding Road." While the lilting sounds may make for smoother travel, often the best and most memorable moments of the long journeys are the scenic highways, the riveting country sides and the majestic landscapes along the way.
Some Routes Are Visual Feasts
Here at ABCO Transportation, we present to you – for your consideration – some of the nation's most scenic views surrounding those long stretches of pavement:
Glaciers formed the 11 lakes that brought forth New York's Finger Lakes. A 175-mile loop meanders along Canandaigua, Keuka, Seneca, Cayuga, Skaneateles, Owasco, Otisco, Honeone, Canadice, Hemlock and Conesus. The lakes direct travelers along a 75-mile line from Syracuse to Rochester for views of bucolic farmland, quaint towns and wineries set along the lakeshore.
The 123-mile Pacific Coast Highway (Highway 1) weaves along California's coastline, showcasing the Big Sur and towering redwoods as sea otters occasionally attempt to take a peek at the humans in their noisy machines.
Going-to-the-Sun Road loops 52 miles through Montana's Glacier National Park, crossing the Continental Divide at Logan Pass and rising 6,646 feet. Motorists can catch views of glacial lakes, valleys, alpine tundra, and cedar forests. The road is only open from June to early fall.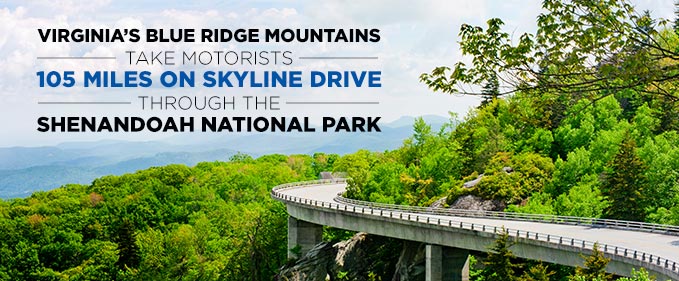 Virginia's Blue Ridge Mountains take motorists 105 miles on Skyline Drive through the Shenandoah National Park. Mary's Rock Tunnel has a height-limit restriction of 12 feet, 8 inches.
Alaska's 127-mile Seward Highway takes travelers from Anchorage to Seward in about five hours. Starting at Chugach Mountains and moving along Turnagain Arm's shore, motorists move through a vast panorama of waterfalls, glaciers, fishing villages, mining towns, sheep, eagles, moose and beluga whales. The route ascends 1,000 feet in the mountains and returns again to sea level.
Colorado's 233-miles San Juan Skyway takes sojourners through San Juan National Forest, Grand Mesa, Uncompahgre and Gunnison National Forests, past the San Juan Mountains and ancient Native American pueblo ruins.
The 12-mile Brandywine Valley route in Pennsylvania and Delaware moves past country mansions, gardens and museums. It is also the site of the 1777 Battle of Brandywine.
Native Americans and early pioneers used to travel what is now Utah's 51-mile Route 143 between Heritage Highway 89 and Scenic Byway 12. Modern motorists are led past peaks, plateaus, lakes, lava fields and canyons of orange and red.
What do you think about this list of scenic highways? If you're a truck driver who is looking for a change of professional scenery and want to work for a company like ABCO that cares about you, contact us today. Let's talk about you becoming one of our next ABCO drivers!