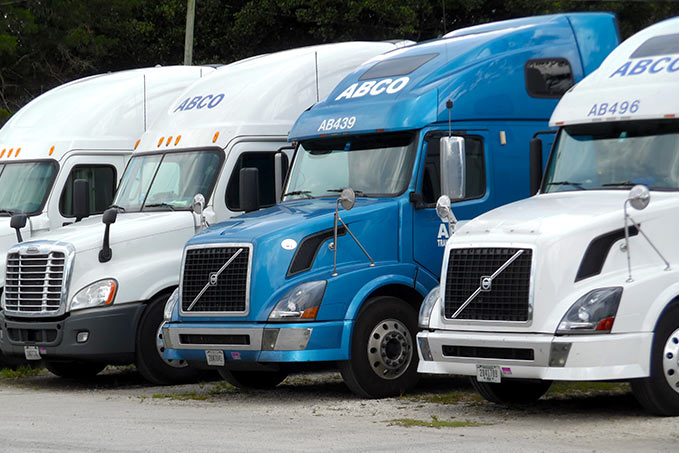 December 30, 2015
We care about our drivers here at ABCO Transportation and want to offer the best trucking jobs. That's why many of our blog articles pertain to truck drivers and their experiences, like working with no-touch freight. T
And if you've watched any of our AskABCO videos or the videos we did this year with professional truck driver Allie Knight, you know that we also like to have fun. This might explain why one of our most popular blog articles this year was one we did about fun truck driver CB handles. Read on to learn more about our five most popular blog articles, based on website traffic.

Fun Handles for the CB Radio User
How could we not explore this topic? Our blog article Fun Truck Driver Handles for the CB Radio User offers up some of the unique handles we've heard from around the country. These include Big Bag, Large Marge, Toe Jam, The Blue Waffle, Trout Stalker and Ratchet Jaw just to name a few. This blog article also offers tips for creating your own CB handle. Let us know what yours is.
Music for the Road
Our truck drivers spend lots of time on the road. We know music can serve as a great companion to fill the silence. That's why we wrote about some of the top songs for truck drivers in this article Songs Truck Drivers Shouldn't Miss Out On. Our list of top picks includes "Eastbound and Down" by Jerry Reed, "Roll on 18-Wheeler," by Alabama and of course "Convoy" by C.W. McCall. Check out the link for our full list.
No-Touch Freight
It makes sense that this article on no-touch freight was popular. We're sure many read our article The Benefits of No-Touch Freight to learn what this term means for truck drivers. ABCO Transportation is a true no-touch freight company. This means our drivers don't touch the freight they haul. They pull in and someone else loads or unloads the truck. We care about our ABCO drivers and want them to stay healthy and without injury. Read on to learn more about no-touch freight.

Women in Trucks
Women have helped influence the growth in the trucking industry. Exploring this topic was a natural for blog article Women in the Trucking Industry. From drivers to mechanics and more, women fill a variety of important positions in the industry today. Click the link to read more about this.
Let's Talk Refrigerated Freight
As one of the top refrigerated trucking companies in the country, we at ABCO felt compelled to write the blog article How Do Refrigerated Trailers Work? We enjoy informing and sharing our expertise and experience with our clients and readers of this blog. This article breaks down unique terms for refrigerated freight. It's quite the feat to travel long distances and maintain a cold temperature for your cargo. Read on to discover how it's done.
What do you think about these popular blog articles? Comment below or reach out to us on any of our social channels. And if you're interested in one of the best trucking jobs, contact us today.